Inventrepreneurship "jam session" for profoundly gifted students and collaborators
Student-first authentic mentorship:
The way we run MannLab (http://mannlab.com) in Silicon Valley, Shenzhen, and Toronto, is using the MIT method. The first priority is the student's success, e.g. I'd like to see at least one of you (in your cohort) get into MIT (my alma mater), and at least one of you get into Stanford (where I also spent much of my time), or at least one of you co-found a successful startup with a more than $100,000,000 raise.

That's our goal. Details like schedules, time, etc., matter less than that goal.

To achieve that goal (which we've already been highly successful at), what I do is sculpt the project so that the student (e.g. you) has a high chance of success. This is different than any other internship you would likely know, e.g. instead of specific project tasks, the task is simply to attain success at just about anything that you are interested in and good at, and that I have some capacity to mentor you on.

The high success comes from working together to define initial goals that we're sure you can really excell at. Let's pick your first project from something very similar to something you've already done before, so you're sure to succeed at it.

The best success comes, not from careful planning (akin to classical music), but from improvisational "jam sessions" (akin to jazz music).

See below for examples of past success, and there are dozens more. One thing the past successes all have in common is the right combination of "nature" and "nurture", i.e., helping students tap into their innate skills they've had since childood, combined with the right mentorship in MannLab Toronto + MannLab Silicon Valley (California) + MannLab Shenzhen + MannLab Xiamen.

This approach works best when you connect to an area or topic that you're already strong in, and then we help you to become even better, to reach your full potential.

A good place to begin is with these selected Instructables: Instructables (link).

You can also schedule a "doing" in which you will meetup with Prof. Mann and take 60 to 90 minutes to work on something together. This is your opportunity to "jam" with us. You can show us what you can do, and you can also see what we can do (and where we most strongly connect). The topic of this "doing" should fall at the intersection of something you're really skilled at, and something that you're really passionate about, and something that falls into our area of expertise, as shown below:

Many of the people you'll meet in our lab are best-in-the-world at what they do. So consider the following analogy: A visit to our lab is like a chance to "jam" with the world's best jazz musician Miles Davis or John Coltrane. So imagine, for example, that you're really good at playing the violin but you're tired of playing the violin and want to learn how to play the saxophone but have never played sax before. When you come to our lab, you should bring your violin because that's where you're going to get the most out of your experience with the jazz greats. You "jam" for an hour or so with these jazz greats, and that's your chance to learn from them AS WELL AS IMPRESS THEM with what you can do. Focus on your strengths and you'll get the best mentorship to become even stronger.
Analogously, come prepared to show us what you can do, at whatever you're best at.
So your first project should be, most importantly, something that you're well "grounded" (skilled) at! This way you will do well at it, and that sets the stage for expanding your skills into other areas over time.
Let's strive to achieve quick early measurable results together, so that we all know we're on the right path. A good initial goal to strive for is that we publish a paper together. Co-authorship with Steve Mann is a good step toward admission to MIT (part of your application portfolio), or starting along a scientific or engineering or inventrepreneurship career path.
If you're more on the software side, see jamc.
See also, the Call for TAs poster and the Job posting.
What to bring:
Bring along any tools or whatever else makes you productive in your own world (multimeter, pocket oscilloscope, pliers, wirecutters, etc.), e.g. bring whatever you know and use in your own life typically. Don't come and first ask for tools. First impress the others in the lab with something really cool that you can do using just what you have brought with you (self-sufficient). Don't use tools that you have not been safety-trained on, e.g. Also, as a general rule, don't use tools that you don't own yourself at home or that you haven't been trained on. Use only tools that you're already highly skilled at, as this will create a favorable impression. Safety first: this is not the place to come and learn how to use a band saw for the first time. There are other places like that (e.g. take the safety course and shop course at George Brown College before using power tools).
Bring your computer, and whatever computing environment makes you most efficient at what you do. We all use open-source operating systems and open-source software tools. So if you want to create a favorable impression here (or anywhere else where people take software seriously) come ready to program in GNU Linux, such as Debian, or Arduino, or Raspberry Pi, programmed from a computer running GNU Linux.
In the summer, we usually wear summer clothes, like shorts + t-shirt, or swimsuit (underwater pipe organ, underwater VR, etc.) rather than business attire. Something comfortable to work in, also. For example, we might, just for fun, take apart a greasy old motor to see how it works.
Our typical jam day runs from 11am to 7pm or 8pm.
If you leave before then, it should be because you can't keep up with the pace and calibre of the other people here, not because you've planned poorly and been foolish enough to schedule something else on a day that presents itself with such a glorious opportunity to jam with other profoundly gifted people.
We are not elitist. Anyone who is dedicated and interested and wants to learn is welcome. We offer various levels of participation. If you are a beginner or novice, and you find you can't keep up with the "jam" approach, you can apply for metamentorship. See http://wearcam.org/metamentorship.htm.
---
---
MannLab students are founders of companies worth more than $1 billion
Toronto, Ontario, Canada, October 2018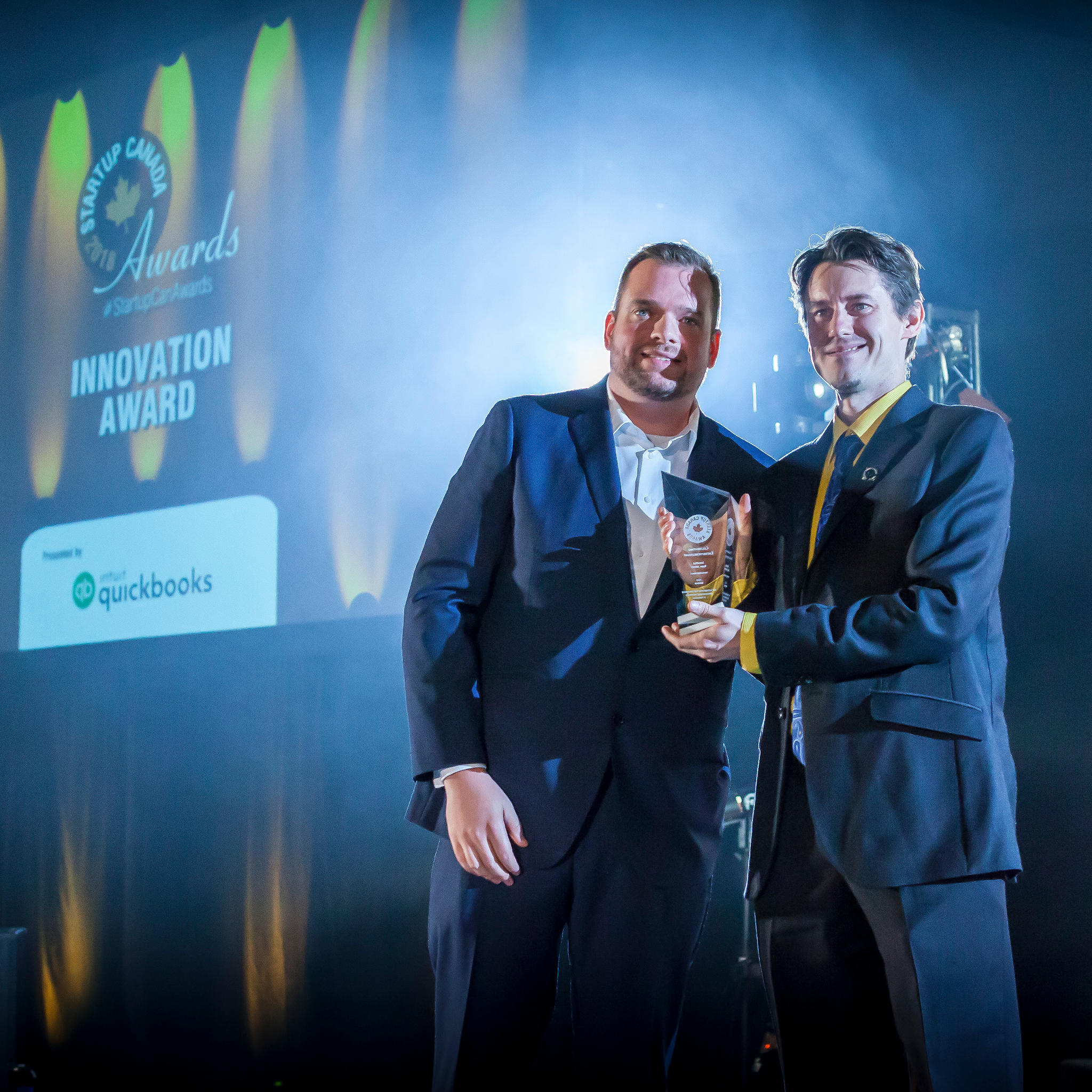 Caption: Ryan Janzen from childhood ... to receiving Innovation of the Year Award, 2018.
Professor Steve Mann teaches a course entitled "Inventrepreneurship" (Invention + entrepreneurship) and teaches students fundamental scientific principles that lead to innovative breakthroughs. Examples of success from Mann's students include:
While he was Mann's PhD student, Ryan Janzen founded a transportation company, Transpod, raised $65,000,000 ($20,000,000 investment [Betakit 2016] plus 32,000,000 Euro grant) [Transpod 2018]. Janzen recently won the "Innovation of the Year Award".
Mann's MaSc students James Fung (now with Google) and Chris Aimone, together with Mann, and others, co-founded InteraXon and raised $28,800,000. The InteraXon Muse product is now sold in Best Buy stores all across North America and is also available on Amazon.com. Interaxon's first product, the Muse, was described as "The Most Important Wearable of 2014" [Venturebeat, Gregory Ferenstein, May 24, 2014 12:39pm], "The King of Wearables" (BetaKit Canadian Startup News, Feature May 27, 2014). and #1 in the "Top six wearables..." of 2015. Regarding the new Muse 2 headband and brain health technology platform that was just released on 2018 October 30th, Mashable described it as "the holy grail for mindfulness", in an article entitled: "Muse 2 review: The world's best meditation tech just got even better"(Mashable).

Caption: Muse2 Launch day at InteraXon, 2018 October 30th.
See also Time-frequency analysis of visual evoked potentials using chirplet transform, Cui, Wong, and Mann, Electronics Letters 41(4), p217-218.
While he was Mann's PhD student, Raymond Lo (now at Harvard University), together with Mann, and others, founded Metavision, raised $75,000,000, and manufactured the world's first extramissive spatial imaging augmented reality glass (Can. Pat. 2,896,985, US Pat. 9,720,505).

Caption: Raymond Lo and Steve Mann with Metavision eyeglasses.
While transitioning from MaSc. to PhD under Mann's supervision, Mir Adnan Ali founded two blockchain companies, CG-Blockchain and Blockchain Terminal, and raised $31,000,000 by ICO (Initial Coin Offering). Ali and Mann invented the concept of blockchain-sousveillance. Sousveillance is the "Little Data" ("Little Watching") counterpart to the otherwise one-sided "Big Data" ("Big Watching") of surveillance. See "FreeGlass...", Mann, Ali, Lo, and Wo, in IEEE i-Society. Adnan's childhood interests included quantum physics as well as building his own cathode ray oscillograph (vacuum pump, electron gun, phosphor from salvaged broken fluorescent light bulb) at the age of 12.
Mann's own childhood interests included phenomenological reality and metaveillography of surveillance cameras:

Caption: One of Steve Mann's childhood inventions, the Sequential Wave Imprinting Machine (SWIM).
Lifelong passion and mastery over technology and its art and craft result in an authentic mentorship in the tradition of MIT and Stanford.
Inventrepreneurship is ideally suited to students who are good engineers and scientists with good hands-on skills. Students interested in joining MannLab should begin by doing some of the Instructables: https://www.instructables.com/member/SteveMann/instructables/, clicking on "I made it", and posting some pictures and videos. Let your talent be discovered!